Individual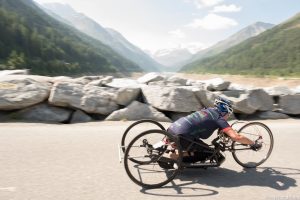 Hand bikers who are not part of a rehabilitation teamcan register as an individual participant.
A limited number of starting certificates are available to individual participants. By 2020, there are (provisional) 44. If necessary, we will work with a waiting list. Fortunately, in recent years we did not have to reject individual participants. We worked with a temporary waiting list and eventually allowed everyone.
Each individual participant is required to cycle up with a buddy. The buddy is not allowed to cycle in a handbike because he can't intervene quickly enough if necessary. The buddy doesn't have to register and doesn't pay registration fee.
Participation of valid hand bikers is not possible.
Pre
Individual participants can register at noon from 1 January.
If you have submitted the form, you will immediately receive confirmation via email.
The number of available starting certificates for individual participants is (provisional) 44. This has everything to do with safety on the trail. Unlike other years, we raffled the starting tickets among the people who signed up between 12:00 and 0.00 on 1 January. All the people who have signed with have since been notified. Registration is not transferable.

There are currently 15 people on the waiting list. As soon as individual participants lose weight, we place someone from the waiting list. Seventy people have now moved from the waiting list to the list of individual participants.
We hope that – like other years – we will eventually be able to put all the people off the waiting list! If we take you off the waiting list, you get new deadlines for medical screening, pay registration fees etc.

You can still sign up for the HanbikeBattle of 2020; we'll put you at the bottom of the waiting list and you really still have a chance to participate!
The entire process of registration and medical screening is on the individual ly in the document Procedure individual participants HandbikeBattle 2020.
Once drawn
If you're drawn up, you'll get an invitation to fill out your medical records in Sportvitalit. The medical screening data must be in no later than 1 March and the registration fee (135 euros) for the deadline that the organization will give you as soon as you have been raffled.
If you are later than the deadlines, you will be at the bottom of the waiting list and your registration will be compromised. The provisional invitation to tender shall be final after the consultation and control of:
Medical screening data (no later than March 1): see Medical screening
Copy of your rating
Payment registration fee (135 euros) via NL82RABO0386153639 compared to participant HandbikeBattle and first name and last name participant
We let us know whether we have received the data in good order and whether the registration is final. Participants who unsubscribe before 1 April will receive the registration fee minus 15 euros administration costs. If you sign up after April 1st, the competition clothes have already been ordered and you will not get the registration fee back. Of course you get the clothes.
The costs for participation include:
Match participation (care posts and medical support)
Race tenue (cycling pants or tight and shirt)
Transport of hand bike and participants back to start
Finisher shirt
The entire procedure for the registration, draw and medical screening of individual participants is described in a separate document.
Questions? Mail info@handbikebattle.nl